Do you have reminder notes in 10 different places, web clips for research somewhere else and that great idea that you had last Friday … what was that again? Evernote is here to save the day. Their tagline of "Remember everything" really is a possibility.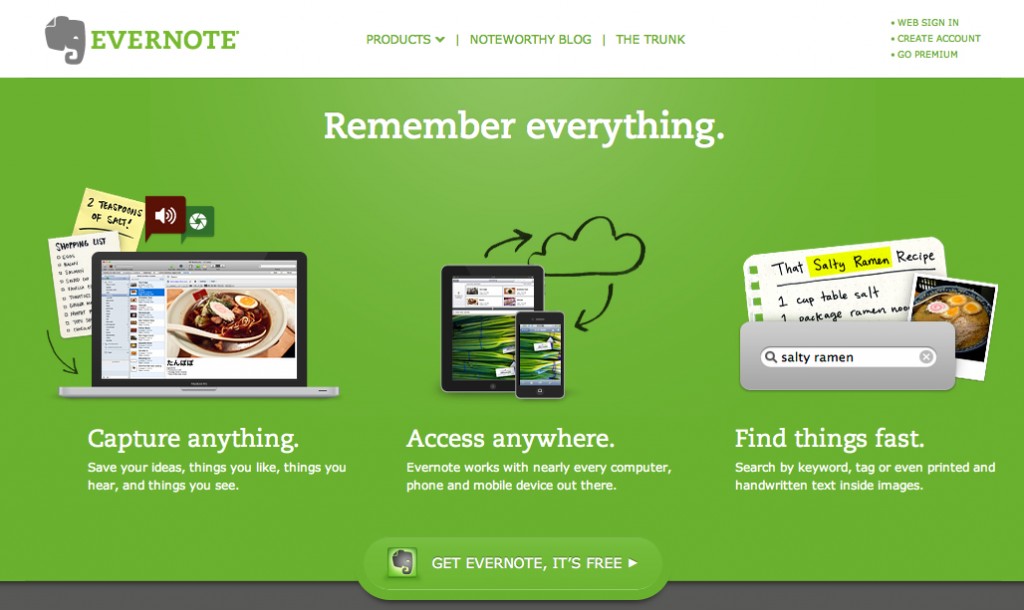 Features
Evernote stores individual pieces of information as notes. Notes can be sorted into notebooks (think folders), which in turn can be grouped into notebook stacks. Individual notes can be tagged. This means, no matter what your organising preference, the note you're looking is easy to find. Notes are fully searchable, even scanned documents and photographs.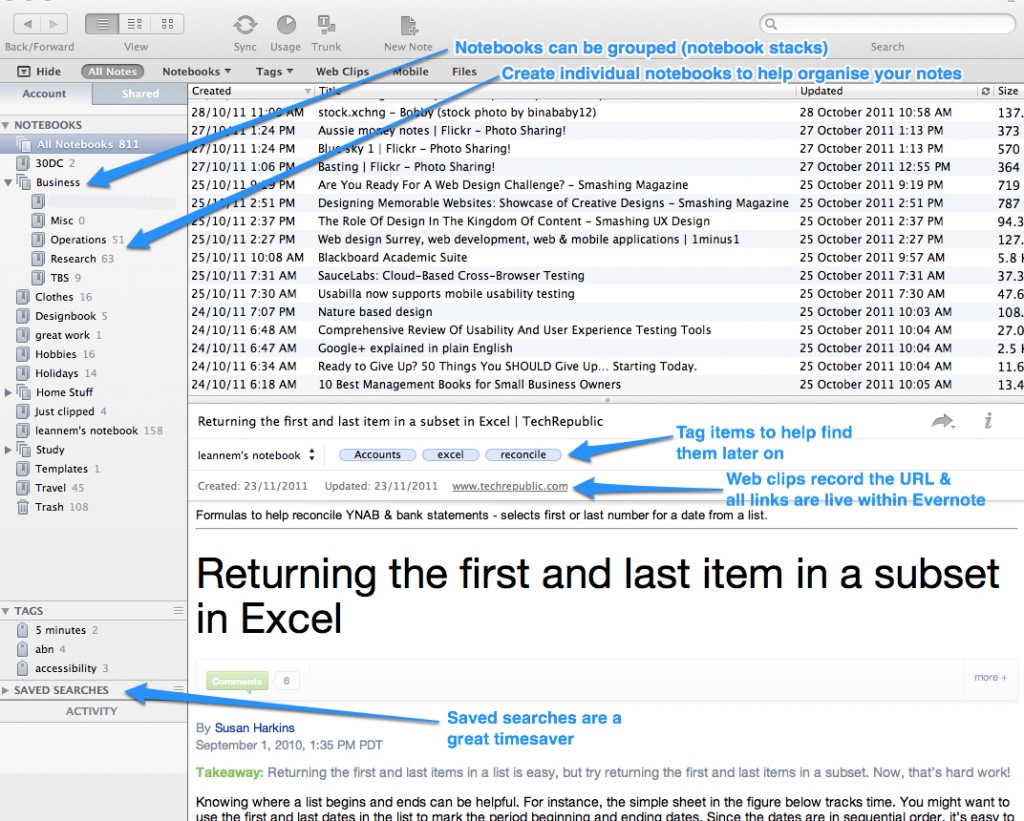 Each account is allocated an Evernote email address, where you can email notes – a great way to tame your inbox or get notes into the software on the rare occasion you can't access it directly. Evernote can also record audio notes, although I'm yet to try that feature. Notes and notebooks can also be shared, making collaboration easier.
Your Evernote notes are accessible almost anywhere. There are desktop versions (Mac and Windows), mobile apps and a web app, all staying in sync so your data is up to date all the time.
There is a large community of developers making apps that integrate beautifully with Evernote to increase its functionality, such as Skitch (which I created the screenshop above with), JotNot for scanning with your smartphone and LiveScribe. A comprehensive list of hardware and apps is available on The Trunk.
Evernote uses the freemium model. All the Evernote software and apps are free to download. Up to 60Mb of data per month can be uploaded using the free account. A premium account, at US$5/month (or US$45/year) increased the data allowance to 1Gb and includes a number of extra features such as larger individual note sizes, note history and PDF search.
How I use Evernote
Evernote is one of the most versatile pieces of software I use. To give you an idea of just how useful it is, here are some of the things I keep in there:
Meeting & conference notes
Research for projects
Business cards
Business reference materials
Receipts
Web design inspiration
Photos of wine labels
Travel information
Templates
The list goes on and on. I keep finding new ways to use it.
Do you use Evernote? What other ways have you found it to be useful in your business?